Contents:
Web Development & Content Management
Branding & Graphic Design
Animation & Motion Graphics
Documentary Photography

Web Development & Content Management
Iowa WONKS!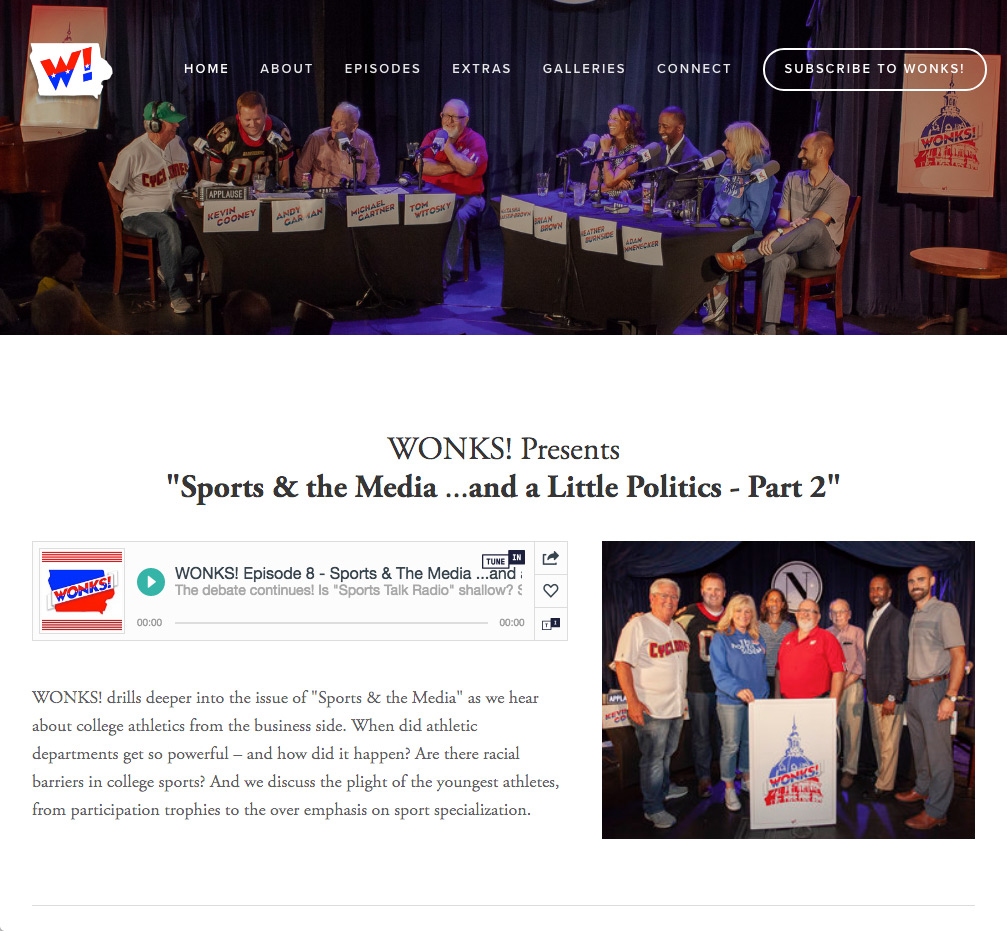 As Web Director, I collaborated with the Executive Producer and Hosts to create and maintain iawonks.com as both a showcase website for the Iowa WONKS! podcast, as well as a full-service distribution platform for live audio and video streaming. In my dual role as Digital Media Director, I also record, mix, and publish all podcasts, as well as shoot and edit all video and photo content presented with each episode.
Branding & Graphic Design
Iowa WONKS! Logos & Design
Beginning with the launch of the website and first live show, I have created all logos and branding for WONKS! properties. The goal was a politically neutral, energetic, and clean design, applied consistently across all websites, social platforms, and signage at live events. This branding ranged from customized posters and name placards for each show, to branded mic flags, to vector graphics suitable for scaleable web applications and large-format banner displays.
Animation & Motion Graphics
As Digital Editions Operator for Meredith Corporation, I worked with designers, photographers, and editors on a daily basis to compose more than one hundred animations and videos that were featured in tablet editions of Better Homes & Gardens, Parents, and Fitness magazines. I created more than two-dozen covers and created award-winning interactive content that appeared on iOS, Android and Kindle editions of the publications.
Documentary Photography
The Iowa Caucuses
As a freelance photojournalist, I covered the campaign for the 2008 Iowa Caucuses, creating a searchable database of more than 1,000 images.
DC News & Features
At U.S. News & World Report I worked as a photography intern where I edited photos for usnews.com, as well as covered news and politics around D.C.
The White House
While an intern in the White House Photo Office, I edited and released images to print and online publications. I also photographed the president's dog, Barney, for whitehouse.gov. Many of these photographs are available on the archived White House website.